Ad blocker interference detected!
Wikia is a free-to-use site that makes money from advertising. We have a modified experience for viewers using ad blockers

Wikia is not accessible if you've made further modifications. Remove the custom ad blocker rule(s) and the page will load as expected.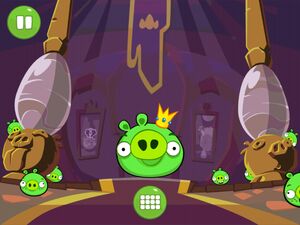 Dessert Mode is a new mode released by Rovio for Bad Piggies. The point of the mode is to collect desserts like cake in the normal levels (
Rise and Swine
, etc.) and then enter dessert mode to feed them to
King Pig
. When you feed King Pig, he may burp, or grow larger. When King pig grows too large, he will burp and return to his normal size. Sometimes, you will earn a
power-up by
doing this.
 You can also get cakes from the Hidden Loot Crates.
Background Details
In the background, there are Minion Pigs (Portrayed as Freckled Pigs) laughing and hiding behind the pillars. The Dessert Mode takes place in King Pig's Castle, so the background is very formal. Chef Pig will peek in and out of the pillar. You can also see paintings of King Pig's mother and father (Former King and Queen pigs) in the background as well. According to a theory, King Pig probably claimed the throne because his parents died.
Trivia
This is the first time a Mother or Father exists in the Angry Birds franchise, unless you count Red, since he is the protector of the eggs.
King Pig may burp the following goodies:

Power-ups (Super Glue or Night Goggles is the most common while the Magnet and Super Mechanic Pig are the rarest)
EXP

King Pig also may burp the following garbages:

Filer
Hairball
Fish Bone
Flies

If you do nothing, after a while, King Pig will:

Smile and laugh
Yawn
Raspberry