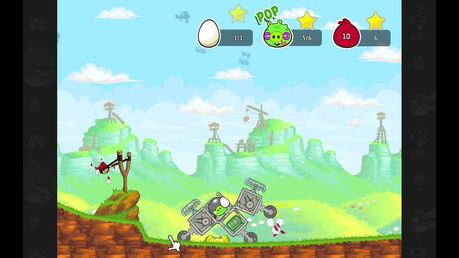 Egg Defender is the bonus in Red's Mighty Feathers.
Rules
A player is using only Red with Mighty Feathers on each level.
The number of birds is infinity.
Pigs will come to steal the egg, but this time in machines so they are harder to stop.
If a pig is directly over an egg, they will steal it.
If the pig gets away with the egg, the level is failed.
If you want 2 stars or more, you must hit ALL pigs without letting any escape.
If you want all 3 stars, you must use the maximun number of Reds or less.
If you pause, there is a button which will not make you restart the level, but will make you try to stop the current pig again.
Ad blocker interference detected!
Wikia is a free-to-use site that makes money from advertising. We have a modified experience for viewers using ad blockers

Wikia is not accessible if you've made further modifications. Remove the custom ad blocker rule(s) and the page will load as expected.