These are the characters that appear in Angry Birds Epic.
Birds
|name=FrostSavange |location=The Holidays Are Coming! [[[File:Bomb_7_(Transparent).png|thumb]] attackpic=Pummel.png attackinfo=Deals 305% damage. |boostpic=Arrr!.png |boosttitle=Arrr! |boostinfo=All birds' attack power is increased by 25%. Lasts 3 turns. |pros=Deals 10% more damage than Pirate. |cons=No defense or healing abilities, high damage is ineffective against Prince Porky. |power=4 |boost=3

[color=red] lololol [/color]
Other birds
Imprisoned Chuck
He is caged in Pig Prison at the last wave. Destroy the cage to free Chuck! He also appears when the ninjas kidnap the birds (but only on the map).
Mighty Eagle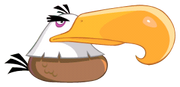 Mighty Eagle takes the role of the class trainer and owner of Mighty Eagle's Dojo. He sells the classes for the birds in the class trainer and upgrades the classes' strength and health in the Mighty Eagle's Dojo. He can also be summoned in combat by using the mighty eagle's favourite dish where he will kill all enemies (including bosses) in one hit. He is different from what he looks like.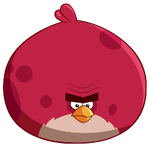 Terence
Although not playable, Terence appears in Angry Birds Epic. He leads the player vs. player arena, and like his personality he shows no emotion. In the post-battle room, he replaces Red's head on tDDhe totem pole.
Sword Spirit
Mighty Eagle's Dojo
Mighty Eagle's Dojo is a place where the player can upgrade his/her birds' classes. It is unlocked after the player completes Old Nesting Barrows 4.
First release
Prior to v1.1.0, the Dojo used to sell Veteran(

), Elite(

) and Master(

) upgrades for 500 Snoutlings, 2000 Snoutlings and 300 Lucky Coins respectively, but now there's a different way to upgrade classes.
Version 1.1
Version 1.1.0 introduced Mastery(
) - a type of XP for classes. It can be earned by defeating pigs, can be bought in the Dojo and one can win mastery in Events. Instead of ranks, the classes now have levels. Each level grants the class a 10% increase in attack and health, meaning that a class will become level 1 if it wasn't upgraded, level 3 if it was a Veteran, level 5 if it was an Elite and level 7 if it was a Master.
Also, the 60% increase, which the player got by upgrading to Master, is no longer the max - the player can upgrade their classes even more. Level 10 is the max level for classes, which means that a 90% increase in attack and health is the highest possible at the moment. The amount of Mastery required to level up a class gets bigger every time a class is leveled up.
Apart from the new upgrade system, the Dojo has also received a new business system. As it was mentioned, Mastery can be bought in the Dojo, but since there's no limit to buying Mastery, instead of the "Sold Out" sign which used to appear when an upgrade is bought, a new purchase will appear meaning that there will always be 3 purchases available. The 5 Lucky Coins skip is still present. However, the time after which new purchases appear is now 24 hours instead of 3.
Version 1.1.1 made a few changes to the dojo as players complained that the mastery system was too slow. Firstly, the waiting time was changed from 24 hours to 3. Plus, Rovio also brought in a system that offered the player discounts for earning Mighty Eagles stamp cards, which are acquired by completing the Golden Pig Challenge 7 days in a row. The first stamp card gives 2% discount on Mastery with later stamp cards each adding on a smaller discount amount.
Pigs
Valentine Wizpig Easter Wizpig
Vampire Pig
Li'l Cupid
Cupido
Flower Pig
Red Egg
Yellow Egg
White Egg
Black Egg
Blue Egg
Camera Pig
Sound Pig
Slate Pig
Bombs
Pirate Pigs
Pirate Pigs take the role of pirate enemies. Their "Dirty Tricks" passive ability makes them immune to all harmful effects.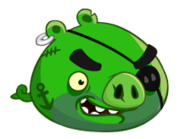 Brute Pig
Brute Pigs take the role of the berserkers or heavy damage dealers in this game. Most of them has have three turn charge attacks. They resemble Fat Pigs.
Battering Brute
Bunny Pig
Prop Pig
Zombie Pigs
These undead pigs take the role of zombie enemies. It takes 3 turns to revive to full health if knocked out (except Pharaoh Pig), unless all other pig allies are also knocked out.
Ghost Pigs
Undead ghost pigs takes 2 turns to revive to full health if knocked out, unless all other pig allies are also knocked out.
Shaman Pigs
Pigmies
Pigmies are little wild pigs that deal triple attacks. Some them can call other pigmies to support, so take them out quickly before they multiply and overwhelm you.
Tiny Pigmies
Forest Pigmies (a stronger version of Tiny Pigmies, can call other Forest Pigmies as support.)
Pigmy Shooters (blocks target's rage ability)
Tribal Pack (A stronger version of Pigmy Shooters, found in the event Into The Jungle and can be fought only through Friendship Gate access otherwise.)
Ice Pigmies (20% chance to immediately removes all helpful effects from target)
Dragon Players (Can call Dragon Players for support in 2 turns.)
Ninja Pigs
-Takes the role of most of the pigs in bamboo forest. Like Prince Porky, ninjas ignore high damage, so it is crucial to use classes that deal smaller doses of damage.
Black Ninja
Red Ninja
Little Ninja (a smaller and stronger version of Red Ninja with no weapons. Found in Volcano Island)
Ninja Bowman
Master Ninja
Shadow Pig (a bigger and stronger version of Master Ninja, Found in Eastern Bamboo Forest and appears as a boss in Cave 11)
Foreman Pig
-Takes the role of himself. Specialize in supporting other pigs.
Big Boss (can make all pigs to attack without losing turn)
Foreman (references Super Mario, holds a yellow Warp Pipe with Mushrooms on it.)(Can boost all pigs' attack power)
Pilot Pig (Target takes more damage)
Submariner Boss (Formerly called Pilot Pig Captain: A stronger version of Pilot Pig, appears as a boss in the Northern and Eastern Sea.)
Pirate Captain (immune to harmful effects)
Undead Pirate Captain (An undead version of the Pirate Captain, looks just like him except for the weapon. He also respawn after 3 turns from knock out.)
Captain Red Beard (Appears as a boss in Porktuga, Rain Plateau - 10, and Western Cobalt Plateaus. A stronger version of the Pirate Captain.)
Pork Da Silva (An special version of Pirate Captain, found in Southern Sea - 2 for first time.)
Mandarin (reduce attack power)
Chieftain (heals pigs)
Antler Pig (Gives pigs a 50% chance to do critical damage, last 2 turns)
Tinker (He can stun target, grant gradual healing to all drones even after being KO'd and can summon drones for support)
Pastry Chef
Director Pig
Knight Pigs
Clockwork Knight
Rose KnightTemplate:Frozen Soldier
Wizard Pig/Elemental Pigs
Wizard Pig, or sometimes referred to as Elemental Pigs by some players, are pigs with white mustache and white hair. These pigs can do magic-based elemental attacks. 
Template:Nature Pig Template:Earthblood Pig Template:Frostpig Template:Blizzard Pig

necromancer pigs are pigs that appear in angry birds epic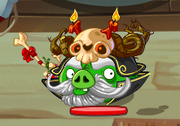 necromancer pigs can summon zombie pigs they appear in the ghost ship level in limestone lagoon Template:Spirit Caller Template:Special Spirit Caller Template:Santa Pig
Puzzles and Dragons
More informations in this page.