Escape to Tatooine B2-8 is the eighth level of Escape to Tatooine (Bird Side).
Difficulty
Strategy is hard to recreate.
Strategy
Fling Anakin in the gap between the structure. Redirect upward to the wood support of the 'crane' lifting the two metal blocks. Do this twice. Then use another Anakin to clear the level.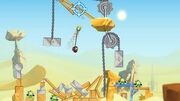 Video Walkthrough
Ad blocker interference detected!
Wikia is a free-to-use site that makes money from advertising. We have a modified experience for viewers using ad blockers

Wikia is not accessible if you've made further modifications. Remove the custom ad blocker rule(s) and the page will load as expected.