Ad blocker interference detected!
Wikia is a free-to-use site that makes money from advertising. We have a modified experience for viewers using ad blockers

Wikia is not accessible if you've made further modifications. Remove the custom ad blocker rule(s) and the page will load as expected.
Fry Me to the Moon 3-1 is the first level of Fry Me to the Moon. This is the first time that they have pigs orbiting planets.
Strategy
Timing is key to pop both pigs.
Strategy
The strategy for Fry Me to the Moon level 3-1 is timing, so try to work out the timing to pop the Moustache Pig when he is in the north side of his planet. The Red Bird should continue on toward the other planet, hopefully popping the pig while it oscillates back and forth.
Walkthrough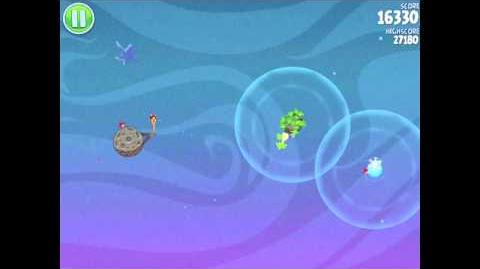 Angry Birds Space
Levels
Eggsteroids
Episode Key : Blue = Pig Bang; Cyan = Cold Cuts and Fry Me to the Moon; Pink = Utopia; Salmon = Red Planet; Lightgreen = Pig Dipper; Purple = Cosmic Crystals; RoyalBlue = Beak Impact