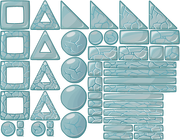 Glass
, also known as
Ice
, is light blue in colour. Among the three kinds of blocks, this one can be easily broken by all kind of birds. Levels with these blocks are often provided with
Blue Birds
, as they are very good at breaking these blocks. It is suggested to multiply. the bird in front on the glass block to maintain the greatest strength of the bird. Most birds slow down when they hit glass, but
Yellow Bird
slows down after only breaking one bit of glass.
Tips
Blue Birds are very helpful on destroying glass, especially when "shotgunning" or better, when split.
Trivia
Strangely, Yellow Birds are weak against glass, despite glass having a much weaker strength than wood & stone.
Despite the game achieivement referring to ice and the Mattel board game being called "Angry Birds: On Thin Ice," Rovio has revealed, via Twitter that the material is meant to be glass.[1]

In Angry Birds Space, the light blue material called "glass", while the light blue material with some icicles called "ice".
The material is darker in Angry Birds Trilogy.
References
Gallery