Go Green, Get Lucky 1-11 is the eleventh level of the episode, Go Green, Get Lucky in Angry Birds Seasons.
Strategy
Note the 4-leaf clover in the bottom-right of Go Green, Get Lucky level 11, and it's corresponding block dead-center in the structure. One strategy is to fire a Red Bird onto the topmost pig, causing the pot o' gold to fall onto the TNT and bust that clover. Bomb in the bottom-left with a White Bird, then use two Yellow Birds to clear the remainder of the level.
Video Walkthroughs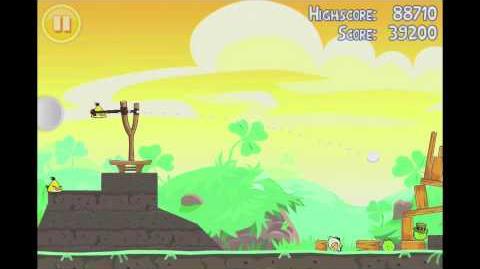 Ad blocker interference detected!
Wikia is a free-to-use site that makes money from advertising. We have a modified experience for viewers using ad blockers

Wikia is not accessible if you've made further modifications. Remove the custom ad blocker rule(s) and the page will load as expected.