Go Green, Get Lucky 1-3 is the 3rd level of Go Green, Get Lucky. This level is more spread out then the other levels before it making it a relatively hard level. The four Small Pigs are vastly apart so it skill does come in handy. Using two birds to complete this level will end with a definitive 65,000+ whilst using three birds should be enough.
Three Star Strategy
This level does take some aiming, but after a few tries, you should get three stars. First, fire the Yellow Bird into the central structure's long stone block. It will topple over the structure, killing the pigs inside, then knocking over the stone wall, killing the fourth pig. Lastly, fire the White Bird and deploy the egg between the first pig and the Large Pig, hopefully killing both of them.
Video Walkthrough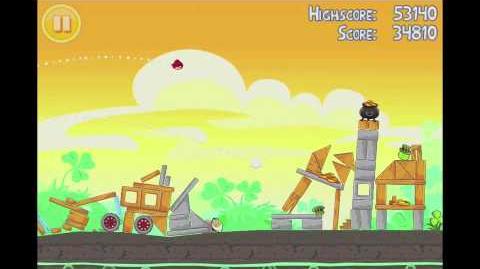 Ad blocker interference detected!
Wikia is a free-to-use site that makes money from advertising. We have a modified experience for viewers using ad blockers

Wikia is not accessible if you've made further modifications. Remove the custom ad blocker rule(s) and the page will load as expected.