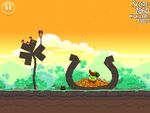 Go Green, Get Lucky 3-Star Pot Of Gold (Golden Egg) is the second Golden Egg you can achieve in the episode, Go Green, Get Lucky at Angry Birds Seasons.
How to achieve
You must get 3 stars in all levels of Go Green, Get Lucky (including the last 3 levels) to achieve it.
Walkthrough
Wait until all the gold dispenses, then launch Red Bird into the large pot to kill King Pig.
Ad blocker interference detected!
Wikia is a free-to-use site that makes money from advertising. We have a modified experience for viewers using ad blockers

Wikia is not accessible if you've made further modifications. Remove the custom ad blocker rule(s) and the page will load as expected.