Golden Egg Level 11 is a Golden Egg level in the game Angry Birds. There is a bowl-shaped rubber outline with Pigs hanging from numerous balloons. The player is supplied with 2 Yellow Birds. It's very fun and simple, too!
How to Obtain
Go to Danger Above selection screen and scroll right to Theme 8. Then, scroll right to see the Golden Egg which is at the right of Theme 8's selection screen.
How to Complete This Level
There is a hidden array of TNT Crates at the top of the screen. The player must hit it with a Yellow Bird and then it will send dozens of balls crashing down at the pigs.The balls will bounce around really fast, killing all the pigs in about 10 seconds. The second unused bird should give the player 10,000 extra points. You will probably end up having 90,000 points altogether at the end of the level, including the extra 10,000 points from the unused bird. 
Video Walkthroughs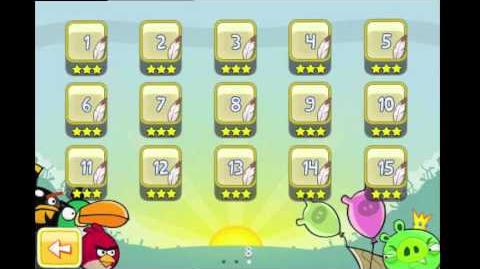 Ad blocker interference detected!
Wikia is a free-to-use site that makes money from advertising. We have a modified experience for viewers using ad blockers

Wikia is not accessible if you've made further modifications. Remove the custom ad blocker rule(s) and the page will load as expected.