Golden Egg Level 21 is obtained by getting all three Stars in all levels of Ham 'Em High, including the Facebook levels.
Star Walkthrough
Expand the accordion as far as you can and hold it there.After a few seconds it will break and the Star will be unlocked.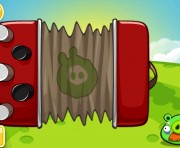 Ad blocker interference detected!
Wikia is a free-to-use site that makes money from advertising. We have a modified experience for viewers using ad blockers

Wikia is not accessible if you've made further modifications. Remove the custom ad blocker rule(s) and the page will load as expected.