Ham 'Em High 14-14 is the fourteenth level of the third theme of Ham 'Em High.
Strategy
First, shoot the Blue Bird to the boulders so they will roll and pop the pigs below with the help of the TNTs. Of course the boulders will easier to move when you split the Blue Bird when they're close to the boulders. Then, shoot the second and third Blue Birds to clear the structures, pop the pigs and finish the level.
Video Walkthroughs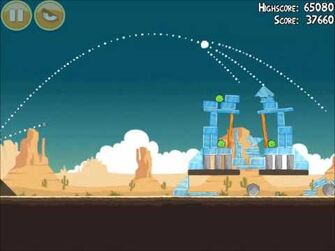 Ad blocker interference detected!
Wikia is a free-to-use site that makes money from advertising. We have a modified experience for viewers using ad blockers

Wikia is not accessible if you've made further modifications. Remove the custom ad blocker rule(s) and the page will load as expected.