Ham Dunk 1-1 is the first level of Ham Dunk.
Strategy
Cut the rope tied with the basketball with Red and the basketball will clear all the pigs with the TNT boxes explode.
0-birds Strategy
The level has been fixed at the Ham Dunk All-Star Update so you can't use this strategy after you update. When Red jumps on the sling, the stone structure will move forward a bit. Wait for a few seconds and the stone structure should falls to the TNT boxes and BOOM!!! This and all 4 birds will gives you a total of 80k+ points.
Walkthrough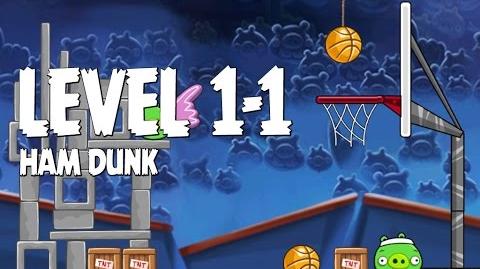 Ad blocker interference detected!
Wikia is a free-to-use site that makes money from advertising. We have a modified experience for viewers using ad blockers

Wikia is not accessible if you've made further modifications. Remove the custom ad blocker rule(s) and the page will load as expected.