Ham Dunk 1-13 is the thirteenth level of Ham Dunk.
Strategy
Sling Chuck down to the trees that the pigs holding the eggs are standing. Remember to use his power to take down these egg-napping pigs and the pigs under the tree and go deep to the leftmost sand blocks. Then, throw Hal to the hoop at the right to get a Slam Dunk bonus and pop the pigs holding basketballs. If you throw correctly, he should pop the small umbrella at the left of the hoop before he going through the hoop. Then, sling The Blues to the second big blue and white umbrella to take out some sand blocks and the pigs which are under the umbrellas. Then, aim Bomb between the two houses and sling him, then explodes when he sit on the sand blocks and all pigs will be popped. This and the remaining bird will give you a total of 155k+ points.
Walkthrough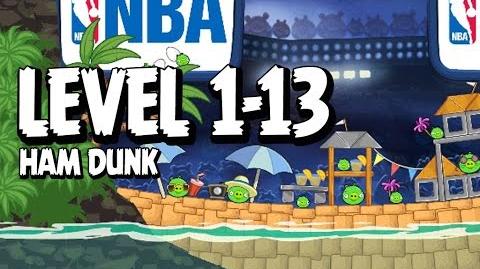 Ad blocker interference detected!
Wikia is a free-to-use site that makes money from advertising. We have a modified experience for viewers using ad blockers

Wikia is not accessible if you've made further modifications. Remove the custom ad blocker rule(s) and the page will load as expected.