Ham Dunk 1-7 is the seventh level of Ham Dunk.
Strategy
There are 2 3-star strategies for this level:
Sling Terence to the three square stone blocks that is in front of the Medium Pig and push it to pop the pigs.

You can sling him to the center basketball spinner and drop the two basketballs down, make it bouncing and all of the other basketballs will drop down. You'll have a chance to get a 5000 Slam Dunk points bonus by bouncing the basketball to the basket.
Walkthrough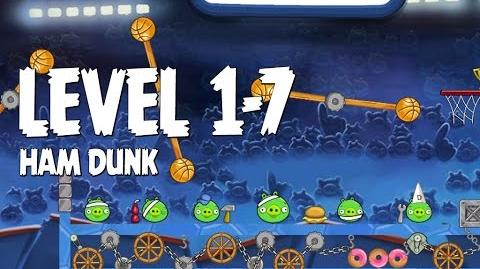 Ad blocker interference detected!
Wikia is a free-to-use site that makes money from advertising. We have a modified experience for viewers using ad blockers

Wikia is not accessible if you've made further modifications. Remove the custom ad blocker rule(s) and the page will load as expected.