Ham Dunk 1-8 is the eighth level of Ham Dunk.
Strategy
Sling Chuck to the red wooden block under the giant basketball to pop the 2 Small Pigs there. And before he crashes into the 2 Small Pigs, use his power to continue flying. He should flies to the right and bounce to Foreman Pig's vehicle by the red trampolines at the wall at the right to push his vehicle to the pigs below. The vehicle will not going to pop all of the remaining pigs, but the giant basketball will. After you pop the Small Pigs, the giant basketball will drop down automatically and pop all of the Corporal Pigs.
Walkthrough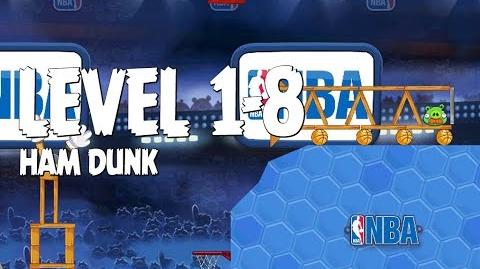 Ad blocker interference detected!
Wikia is a free-to-use site that makes money from advertising. We have a modified experience for viewers using ad blockers

Wikia is not accessible if you've made further modifications. Remove the custom ad blocker rule(s) and the page will load as expected.