Ham Dunk 2-3 (aka. Welcome to Piggywood) is the eighteenth level and the third level of the second theme of Ham Dunk.This level is based off the NBA team, the Los Angeles Lakers.
Strategy
Sling The Blues to the basketball hoop at the far right near the letter D and Foreman Pig. Two of the The Blues will go through the hoop and pop the Lakers T-shirt under the hoop. The bird that not going through the hoop will smash the D and explodes the TNT boxes. Then, sling Bubbles to the first letter O (counting from left to right) that located next to the O that the Foreman Pig standing. Inflates him and the TNT box above the letter W will be explode and send basketball to the pigs at the left and pop all those pigs.
Walkthrough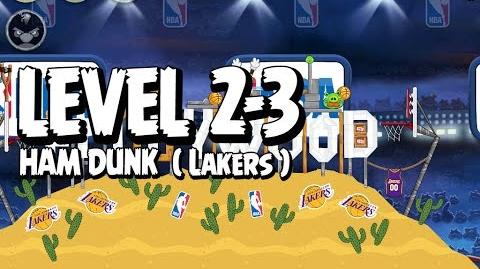 Ad blocker interference detected!
Wikia is a free-to-use site that makes money from advertising. We have a modified experience for viewers using ad blockers

Wikia is not accessible if you've made further modifications. Remove the custom ad blocker rule(s) and the page will load as expected.