Ham Dunk 2-6 is the twenty-first level and the sixth level of the second theme of Ham Dunk and this level based on Oklahoma Thunder team.
Strategy
Fling Bubbles to the hut which have the Small Pig and the stove and wait for him to inflate automatically. All of the pigs should be popped, or if not, sling Stella to pop the remaining pigs. But if they're not all popped again, use Bubbles to pop the remaining pigs.
Walkthrough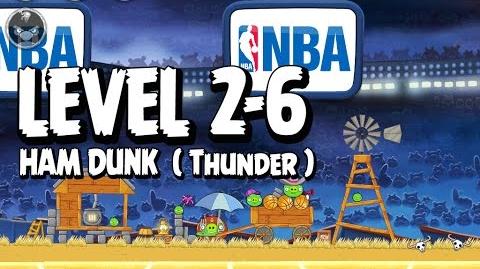 Ad blocker interference detected!
Wikia is a free-to-use site that makes money from advertising. We have a modified experience for viewers using ad blockers

Wikia is not accessible if you've made further modifications. Remove the custom ad blocker rule(s) and the page will load as expected.