Ad blocker interference detected!
Wikia is a free-to-use site that makes money from advertising. We have a modified experience for viewers using ad blockers

Wikia is not accessible if you've made further modifications. Remove the custom ad blocker rule(s) and the page will load as expected.
    Handsome Pig (aka. Hamsome Pig) is a blond/blonde pig that appears in Angry Birds Stella.
Appearance
Handsome Pig wears a blond wig that can be shown when he jumps upwards. He is a simple minion pig except for his thicker eyebrows.
Character
Personal Data
Name: Handsome Pig
Known Aliases: None
Group Affliation: Bad Piggies
Best Friends: Gale (Love interest)
Possible Family: None
Voiced By: TBA
Ability
Unlike other Stella Pigs, Handsome Pig does not have any abilities. His description only reads, "Oinks with style",
Depscription
None
History
Main Article: Angry Birds Stella
Handsome Pig's first and currently only appearance is in Angry Birds Stella.
Handsome Pig plays the role as Gale's right-hand, as he is always next to her and is there when she needs him to be. He is the most valued pig, and appears in every boss battle as the main villian.
Main Article: Angry Birds Toons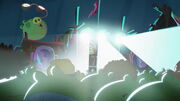 Handsome Pig may quite possibly appear in the Toons episode Party Ahoy where he can be seen at the Golden-Island resembling area. His distinguishing blond wig can be seen at the dance the pigs attend to. (Picture to the right shows this)
Relationships
While this may be the result of Gale's golden crown, Handsome Pig has romantic feelings for Gale, and is always stepping up to do things for her. He is willing to do anything for her, such as saving her from dangerous plants in Piggy Love. As proven in Friends Whenever, his willingness to do things for Gale is not because of her crown. While the other piggies ignore her because of her missing crown, Handsome Pig first single-handedly transports her to the Big Tree, then searches for and returns her crown. He did likely because of his romantic feelings for Gale.
Appearances
Games:
Animation:
Gallery
Trivia
Characters

Stella's Friends
Stella's Enemies