The Hidden Loot Crates are objects in Bad Piggies. They can be found daily. There are 7 types of them. Cardboard, Wood, Silver, Gold, Marble, Copper and Glass. They are also known as Boxes. One must find one via looking at levels, watching a video, buying one in the shop, or winning them in the Cake Race. They can feature items (see Custom Parts), cakes, nuts, power-ups or disguises for Ross and King Pig. The wood crate has 3 items, The silver has 4, and the gold has 8. The Cake Race loot crates have 3 each. You can get a 1-star, a 2-star or a 3-star object. A wood crate can be purchased for 120 Snout Coins, and the silver and gold crates can be purchased by real money. The loot crates have to be tapped 3 times to open them. Loot Crates reward a certain amount of XP when earned.
Gallery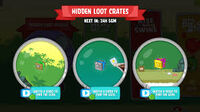 Instructional video
Trivia
A free silver loot crate can be found in the credits, Similar to Angry Birds, Where you can find a Golden Egg in the credits. More information about this golden egg can be found in the page Golden Egg Level 5. However, this loot crate will reward no XP.
If you get an item you already have, then it will be replaced by a number of nuts.
The Silver crate is also known as the Metal crate.
The Hidden Loot Crates can also be attracted by the ''Magnet'' power-up.
The first time before you purchase a wooden crate with coins, You can get a free crate.
Purchasing the Field of Dreams will give you a free Gold Loot Crate.
Ad blocker interference detected!
Wikia is a free-to-use site that makes money from advertising. We have a modified experience for viewers using ad blockers

Wikia is not accessible if you've made further modifications. Remove the custom ad blocker rule(s) and the page will load as expected.