Hockey Bird
Talk

8
2,571pages on
this wiki
Hockey Bird
General Info
Powers
None
First Level Appearance:
None
Gender:
Male
Species:
Unknown
Locations:
Unknown
Strength:
Unknown
Size:
Normal-Medium
Revealed in November, 2011, Hockey Bird was designed by Toni Kysenius at Rovio Entertainment to be the official mascot for the 2012 IIHF Ice Hockey World Championships.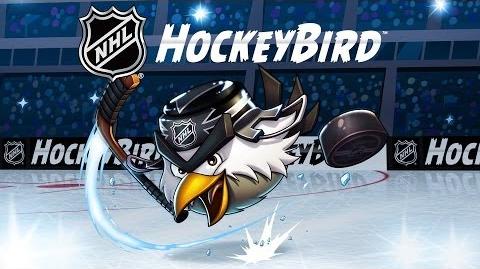 "For Rovio Entertainment, being a part of the hockey world championships is something new, and Hockey Bird is the right person to join the party. He's the first Angry Bird who gets to break free from the Angry Birds game environment. His job is to bring bird energy to a big sports carnival and basically, be everywhere," says Toni Kysenius at Rovio.
Hockey Bird does not appear in, and is unplayable in any of the the Angry Birds games. It is used exclusively in its mascot capacity.
On January 24, 2014, Rovio released a YouTube video announcing Hockey Bird's partnership with the NHL. According to the video, Hockey Bird was once part of the flock, but then left to follow his dream and become a professional hockey player. You can watch it here: http://www.youtube.com/watch?v=yYGUypUSVX0