Hog Head Mountain - 1

Zone
Hog Head Mountain
Type
Normal Battle
Enemies
Wealthy Rogue x1
Main Prize
 :3
Progression
Previous
Next
King Pig's Castle
Hog Head Mountain - 2
Hog Head Mountain - 1 is the first level in Hog Head Mountain of Angry Birds Epic. If not encountered, this level introduces the Wealthy Rogue.
1. Very easy
Pigs
You have to engage 1 Wealthy Rogue. Each enemy's stats are shown below.
Strategy
Choose any 3 birds in any classes. Attack every turn before the Wealthy Rogue runs away to get 50

!
Walkthroughs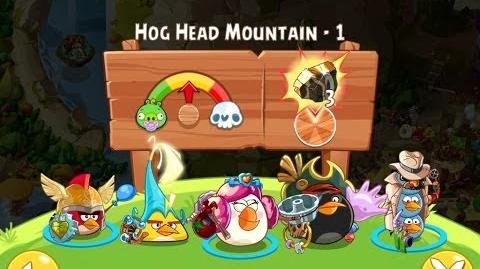 Ad blocker interference detected!
Wikia is a free-to-use site that makes money from advertising. We have a modified experience for viewers using ad blockers

Wikia is not accessible if you've made further modifications. Remove the custom ad blocker rule(s) and the page will load as expected.