This page is a stub article
This article is a stub. You can help Angry Birds Wiki by expanding it and adding more information as soon as possible, then removing the stub tag.
On occasion, Rovio Entertainment will create new Angry Bird characters as fanon and jokes, meant solely for fun, but (most of the time) are not meant to be canonical.
The Coco Bird
On October 5, 2011, the Angry Birds Twitter page tweeted the following image with the caption, "Hey @ConanOBrien we've made an Angry Bird version of you. Meet the Coco Bird!"
The plush bird was a homage to Comedian/Talk Show Host, Conan O'Brien. It's based on the White Bird, but features red hair, a red beard and opened mouth, similar to O'Brien's at the time.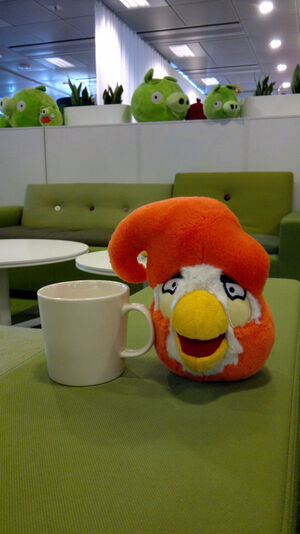 On April 1, 2012, Conan O'Brien and Mashable.com shared a prank stating that O'Brien had purchased Mashable and was now the new CEO. The Angry Birds Twitter page tweeted: "The Coco bird is a fan of the new pecking order at @mashable!" and linked to the original image of the Coco Bird.
Note: This plush is not for sale in any internet stores and will not be, but it can be handmade by some people.
Skunkbird
On April Fool's Day - April 1, 2012, Rovio Entertainment posted an image on Angry Birds' Social Media sites with the caption "Coming Soon," the "offical" title of this character was found by the file name of the Google+ image, "skunkbird_final.jpg."
The Angry Birds Twitter page later suggested to players "Tip: Pop precisely 22 pigs on the main menu!"
Later in the day, it was revealed as an April Fool's Joke with an updated image. Not too many people were tricked by this. Some people thought that this may have happened to Matilda when she went into space.