Level F-2 (Angry Birds Space)
Talk

0
Level F-2 (Angry Birds Space)
Episode
Level Number
Feather 2
Birds Sequence
No.of Pigs
x10 x6
x1
3-star Score
N/A
Previous
Next
Level F-1
Level F-3
Level F-2 is the second level of Sardine Can Levels. To unlock this level, you must collect all feathers in Cold Cuts.
Difficulty
This level is a based on luck, so use more sardines are harder for 100%.
Strategy
Throw the sardine can into the southern side of the eastern planet, at the base of the snowball mountain. This should cause the domino effect.
Walkthrough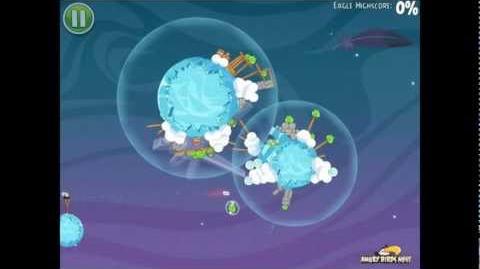 Angry Birds Space
Levels
Eggsteroids
Episode Key : Blue = Pig Bang; Cyan = Cold Cuts and Fry Me to the Moon; Pink = Utopia; Salmon = Red Planet; Lightgreen = Pig Dipper; Purple = Cosmic Crystals; RoyalBlue = Beak Impact