Level S-17 (Angry Birds Space)
Talk

0
Level S-17 (Angry Birds Space)
Episode
Level Number
Space Egg 17
Birds Sequence
No.of Pigs
x3 x1
3-star Score
: 50,000 points
Previous
Next
Level S-16
Level S-18
Level S-17 is the first Space Egg level in Cosmic Crystals. To unlock this level, you must 3-starring levels 7-1 through 7-10 of Cosmic Crystals.
Difficulty
The Crystal planet can be hard to destroy because of size.
Strategy
Pull the asteroid through the western pig, then do the same on the east. Have three asteroids crash onto the Fat Pig's planet will cause it to rupture, use the next Space Egg to finish the remaining pigs most of the time.
Tip: You can use TNT to destroy the crystal planet instantly.
Video Walkthrough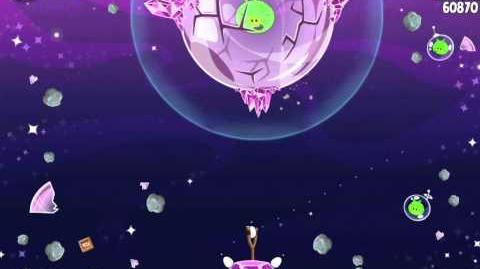 Angry Birds Space
Levels
Eggsteroids
Episode Key : Blue = Pig Bang; Cyan = Cold Cuts and Fry Me to the Moon; Pink = Utopia; Salmon = Red Planet; Lightgreen = Pig Dipper; Purple = Cosmic Crystals; RoyalBlue = Beak Impact