Level S-3 (Angry Birds Space)
Talk

0
Level S-3 (Angry Birds Space)
Episode
Level Number
Space Egg 3
Birds Sequence
No.of Pigs
x3
3-star Score
: 62,000 points
Progression
Previous
Next
Level S-2
Level S-4
Level S-3 is the third Space Egg levels in Angry Birds Space. You must collect all stars in level 1-21 to 1-30 in Pig Bang.
Difficulty
The hardest point in this level is bring the pebbles down to the rightmost atmosphere.
Getting 3 stars is very easy if you pass this level.
Strategy
Send the first Space Egg down into the pile of pebbles so they shoot up and come to a rest above the pigs structure. Repeat this with a second Space Egg in the another pile of pebbles. Assuming that you have a nice row of pebbles above the pigs structure, send another Space Egg and detonate it directly above them. This should send the pebblesrs into the pigs structure, taking them out. if you lucky enough, it's the pebbles can detonate the TNT to get more some points.
Walkthrough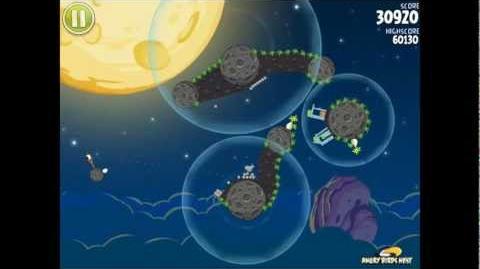 Angry Birds Space
Levels
Eggsteroids
Episode Key : Blue = Pig Bang; Cyan = Cold Cuts and Fry Me to the Moon; Pink = Utopia; Salmon = Red Planet; Lightgreen = Pig Dipper; Purple = Cosmic Crystals; RoyalBlue = Beak Impact