Ad blocker interference detected!
Wikia is a free-to-use site that makes money from advertising. We have a modified experience for viewers using ad blockers

Wikia is not accessible if you've made further modifications. Remove the custom ad blocker rule(s) and the page will load as expected.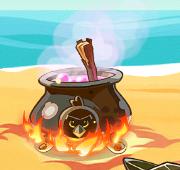 The
Magic Cauldron
is an object obtained in
Angry Birds Epic
after completing
Cobalt Plateaus - 7
. It is used to brew potions using
ingredients
. An upgraded version, the
Golden Cauldron
and
Diamond Cauldron
can be purchased at the shop to increase the amount of potions obtained per recipe.
Usage
When the player obtains a new recipe for a potion, he or she can use the cauldron to brew it. The player will not receive the potion if there is insufficient ingredients required in the inventory. Once brewed, a die with 1 to 3 stars on each side is rolled if the player gets additional potions. (Example: 0 stars rolled for Banana Juice will give the player a single potion, while more stars will give multiple potions from the stars rolled above).
Potions
There are three main types of potions: juices that heal a bird, veggie cakes that fill the rage chili, and fruit cakes that heal all birds. Each has a sequential recipe ranking where a higher recipe replaces any lower recipes. Any unused potions are automatically upgraded to the new recipe when it is purchased. Be careful to check the new crafting cost before upgrading to new recipe item.
Item
Rank
Description
Bird Level
Recipe Cost
Crafting Cost
Banana Juice
1
Heals bird for

+75

health.
None
:4 :4 :5
Sea Berry Juice
1
Heals bird for

+120

health.
5
100
:4 :4 :5
2
Heals bird for

+150

health.
7
150
3
Heals bird for

+180

health.
9
 200
Snow Apple Juice
1
Heals bird for

+210

health.
11
300
:4 :4 :5
2
Heals bird for

+240

health.
13
400
Pig Cherry Juice
1
Heals bird for

+300

health.
15
600
:4 :4 :5
2
Heals bird for

+350

health.
17
1,250
3
Heals bird for

+400

health.
21
1,750
4
Heals bird for

+450

health.
32
2,250
5
Heals bird for

+500

health.
32
2,750
6
Heals bird for

+550

health.
33
3,250
Greater Pig Cherry Juice
1
Heals bird for

+2775

health.
35
1,800
:4 :4 :5
2
Heals bird for

+3075

health.
38
1,510
3
Heals bird for

+3300

health.
??
1,620
4
Heals bird for

+3525

health.
??
1,730
5
Heals bird for

+3750

health.
??
1,830
6
Heals bird for

+3975

health.
??
1,950
Pompous Pig Cherry Juice
1
Heals bird for

+4275

health.
??
2,370
:4 :4 :5
Hot Veggie Cake
Fills rage chili by

+25%

.
3
25
:5
Ultra Hot Veggie Cake
Fills rage chili by

+50%

.
12
1,000
:10 :4
Burning Veggie Cake
Fills rage chili by

+70%

.
15
3,000
:10 :4 :4
Infernal Veggie Cake
Fills rage chili by

+90%

.
??
5,000
Fruit Cake
1
Heals all birds for

+200

health.
15
1,250
:8 :6 :10
2
Heals all birds for

+225

health.
20
2,000
3
Heals all birds for

+250

health.
22
2,750
4
Heals all birds for

+275

health.
24
3,500
5
Heals all birds for

+300

health.
32
4,250
6
Heals all birds for 

+325

 health.
34
 5,000
7
Heals all birds for 

+350

 health.
35
 5,750
Pretty Fruit Cake
1
Heals all birds for

+1335

health.
36
2,500
:8 :6 :10
2
Heals all birds for

+1500

health.
39
2,300
3
Heals all birds for

+1670

health.
??
2,420
4
Heals all birds for

+1840

health.
??
2,530
5
Heals all birds for

+2000

health.
??
2,650
6
Heals all birds for

+2170

health.
??
2,770
7
Heals all birds for

+2340

health.
??
2,890
Delicious Fruit Cake
1
Heals all birds for

+2500

health.
??
3,000
2
Heals all birds for

+??

health.
62
 ??
Experience Potion
Double the experience obtained from one battle. Level up to grow more power!
Cannot be crafted. Can only be bought.
Mighty Eagle's Favorite Dish
Mighty Eagle immediately destroys all enemies on the battlefield!
Purify Potion
Removes all negative effects from bird.
Stamina Drink
Increases your Stamina by 1 to a maximun of 15 Stamina.
:15
Gallery