Naboo Invasion B1-10 is the tenth level of Naboo Invasion (Bird Side).
Difficulty
Level is almost too easy and does not require any skill.
Strategy
Fling Qui-Gon Jinn toward the droid pig bottom of the catapult. Use lightsaber upon impact. The lightsaber will cut the triangle wood block beside it. Because of this, the catapult will come down and detonate the black TNT. Thus, killing all pigs and destroying the structure.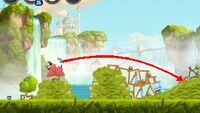 Video Walkthrough
See Video Walkthrough.