Naboo Invasion B1-11 is the eleventh level of Naboo Invasion (Bird Side).
Difficulty
Yoda's bouncing power makes this level easy.
Strategy
Send Yoda high. He should land on the three pigs on the pool of water. Activate his power a while before he hits. Then he should bounce off the ground underneath the pool and destroy the towers. The debris should fall and kill the pig(s) (if any) remaining.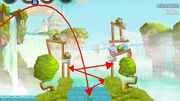 Trivia
This is the first level appearance of Yoda.
Video Walkthrough
Ad blocker interference detected!
Wikia is a free-to-use site that makes money from advertising. We have a modified experience for viewers using ad blockers

Wikia is not accessible if you've made further modifications. Remove the custom ad blocker rule(s) and the page will load as expected.