Naboo Invasion B1-13 is the thirteenth level of Naboo Invasion(Bird Side)
Difficulty
Level is not easy, but it is not hard either.
Strategy
Fling Yoda toward the right corner of the opening. Activate power a while before he hits. Yoda should bounce off it and head toward the main structure and detonate the TNT. The explosion is likely to kill all pigs.If there is any pig(s) remaining, use another bird to finish it.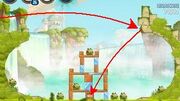 Video Walkthrough
See Video Walkthrough.