Naboo Invasion B1-14 is the fourteenth level of Naboo Invasion(Bird Side).
Difficulty
Level is one of the easiest in the full game.(Even easier than the first level)
Strategy
Shoot Yoda into the valley of the two upper grounds. He should bounce off and hit the structure. A small hit can make it fall.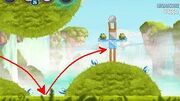 Video Walkthrough
See Video Walkthrough.