Naboo Invasion B1-15 is the fifteenth level of Naboo Invasion(Bird Side).
Difficulty
Level is very hard.
Strategy
Fling Yoda toward the big square block on top of the second tower. Activate lightsaber one second before hitting he should bounce off and break the wood block under the TNT and detonate it. Yoda himself will will go away from the TNT and break the first tower and the blocks from the TNT will kill the other pigs which are left out.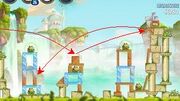 Video Walkthrough
See Video Walkthrough.