Naboo Invasion B1-16is the sixteenth level of Naboo Invasion (Bird Side).
Difficulty
Some might find it difficult to make Yoda bounce high.
Strategy
Shoot Yoda to the right tower, to the lower three square metal blocks. Shoot the middle one. Activate power halfway. Then, he should bounce and detonate the three TNT as in the photo. Because of that, the left tower should collapse.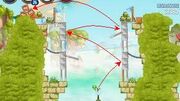 After that, Shoot Yoda to the vertical wood block supporting the right tower. Because of this, the tower should collapse.
Video Walkthrough
See Video Walkthrough.
Ad blocker interference detected!
Wikia is a free-to-use site that makes money from advertising. We have a modified experience for viewers using ad blockers

Wikia is not accessible if you've made further modifications. Remove the custom ad blocker rule(s) and the page will load as expected.