Naboo Invasion B1-17 is the seventeenth level of Naboo Invasion(Bird Side).
Difficulty
Level is tough and the pigs on the right are very hard to kill.
Strategy
Shoot Qui-Gon as in photo. Pull lightsaber at cross. This should kill at least two pigs and and detonate the TNT.
Then, shoot Obi-Wan as ih the next photo, he should land at cross. then, use force at red target. This should kill the rightmost pig and blocks will fall to kill the two pigs below.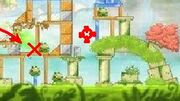 Video Walkthrough
See Video Walkthrough.