Naboo Invasion P1-17 (Angry Birds Star Wars II)
Episode
Naboo Invasion(Pork Side)
Level Number
17
Birds Sequence
No. of Pigs
x3 x3 x1
3-star Score
70,000
Previous
Next
Naboo Invasion P1-16 (Angry Birds Star Wars II)
Naboo Invasion P1-18 (Angry Birds Star Wars II)

or

Naboo Invasion P1-17 is the seventeenth level of Naboo Invasion (Pork Side).
Strategy
Fling Battle Droid into the northern hemisphere of the small planet. So that he destroys the small tower. Then, shoot the black TNT with the laser. The explosion will clear the level.
Video Walkthrough
See Video Walkthrough.
Treasure Map
This video shows you how to get the treasure map in the level in order to unlock the level P1-S3.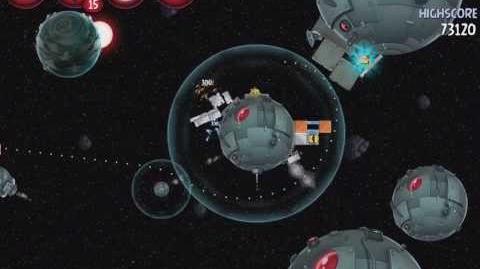 Ad blocker interference detected!
Wikia is a free-to-use site that makes money from advertising. We have a modified experience for viewers using ad blockers

Wikia is not accessible if you've made further modifications. Remove the custom ad blocker rule(s) and the page will load as expected.