Naboo Invasion P1-7 is the seventh level of Naboo Invasion (Pork Side).
Strategy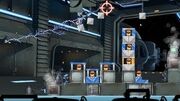 Fling Sidious to the wood block supporting the tower, use electricity at target straight after launching. That way, the blocks will fall down and kill the three birds below, and Sidious himself will make the tower collapse.
Video Walkthrough
Ad blocker interference detected!
Wikia is a free-to-use site that makes money from advertising. We have a modified experience for viewers using ad blockers

Wikia is not accessible if you've made further modifications. Remove the custom ad blocker rule(s) and the page will load as expected.