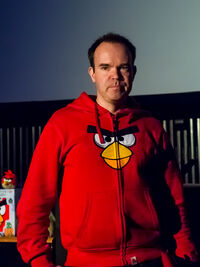 Peter Vesterbacka (born on March 12, 1968 [1]), his nickname known as Mighty Eagle, is a Finnish mobile game developer.
Vesterbacka is responsible for the development of the gaming company Rovio Entertainment's business and has been involved in making the popular Angry Birds. TIME magazine chose Vesterbacka of 2011, the world's hundred most influential people list. [2]
In June 21, 2016, he decided to leave Rovio Entertainment. [3]
Biography
Vesterbacka spent his childhood and youth in Pori, Finland. [4] He graduated from high school Björneborgs Swedish Samskola, after which began marketing studies at Åbo Akademi University. However, studies were interrupted Vesterbacka moves to work for Hewlett-Packard. [5]
References
External Links
Peter Vesterbacka at Twitter
Peter Vesterbacka at Wikipedia (Finnish)