Pig Bang 1-11 (Angry Birds Space)
Episode
Level Number
11
Birds Sequence
No. of Pigs
: x2 : x2
3-star Score
: 50,000 points
Previous
Next
Pig Bang 1-10
Pig Bang 1-12
Pig Bang 1-11 is the 11th level of Pig Bang.
Difficulty
Timing is key when you are splitting your bird.
Strategy
The strategy is to send a Blue Bird towards the first pig. Play around with timing a bit and you should be able to split through all four pigs for a smooth one-bird clear.
Walkthrough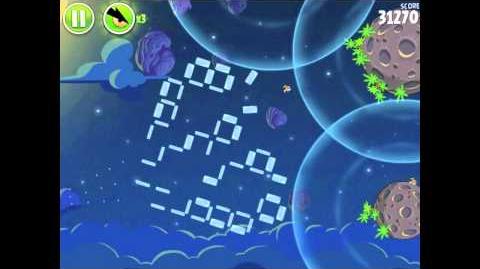 Angry Birds Space
Levels
Eggsteroids
Episode Key : Blue = Pig Bang; Cyan = Cold Cuts and Fry Me to the Moon; Pink = Utopia; Salmon = Red Planet; Lightgreen = Pig Dipper; Purple = Cosmic Crystals; RoyalBlue = Beak Impact
Ad blocker interference detected!
Wikia is a free-to-use site that makes money from advertising. We have a modified experience for viewers using ad blockers

Wikia is not accessible if you've made further modifications. Remove the custom ad blocker rule(s) and the page will load as expected.