Pig Bang 1-12 (Angry Birds Space)
Episode
Level Number
12
Max quantity of Sardines
No.of Pigs
: x3
Difficulty
Medium
Progression
Previous
Next
Pig Bang 1-11
Pig Bang 1-13
Here is the strategy for 100% total destruction with Space Eagle for Pig Bang 1-12 (Angry Birds Space).
Note: You must have least one sardine can to play this mode.
Strategy
The basic strategy is to send a sardine can downward, into the outer edges of the first gravitational field. The sardine can should settle next to the top-left pig on the second planet. The planet is small enough that the Space Eagle should destroy most of the structure there.
Walkthrough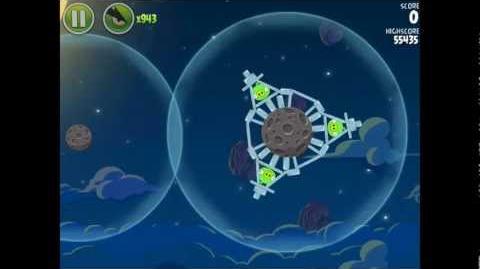 Ad blocker interference detected!
Wikia is a free-to-use site that makes money from advertising. We have a modified experience for viewers using ad blockers

Wikia is not accessible if you've made further modifications. Remove the custom ad blocker rule(s) and the page will load as expected.