Pig Bang 1-16 (Angry Birds Space)
Episode
Level Number
16
Max quantity of Sardines
No.of Pigs
: x2 : x2
: x2
Difficulty
Considerably easy
Progression
Previous
Next
Pig Bang 1-15
Pig Bang 1-17
Here is the strategy for 100% total destruction with Space Eagle for Pig Bang 1-16 (Angry Birds Space). Note: You must have least one sardine can to play this mode.
Difficulty
The key to success this level is to destroy as much as you can.
Strategy
Throw Sardine can straight ahead, just below the hollow wooden square. Trigger the Space Eagle upon impact to avoid it bouncing wildly. The only variant in the way of earning the feather would be if a pig does not pop.
Walkthrough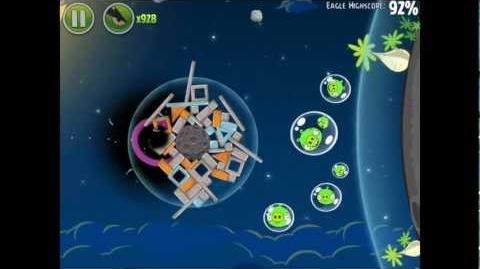 Ad blocker interference detected!
Wikia is a free-to-use site that makes money from advertising. We have a modified experience for viewers using ad blockers

Wikia is not accessible if you've made further modifications. Remove the custom ad blocker rule(s) and the page will load as expected.