Pig Bang 1-17 (Angry Birds Space)
Episode
Level Number
17
Max quantity of Sardines
No.of Pigs
: x1 : x1
: x1 : x2
Difficulty
Medium
Progression
Previous
Next
Pig Bang 1-16
Pig Bang 1-18
Here is the strategy for 100% total destruction with Space Eagle for Pig Bang 1-17 (Angry Birds Space). Note: You must have least one sardine can to play this mode.
Difficulty
This may take a while to think out of a strategy.
Strategy
Launch the Sardine can into the left side of the large structure in the north, just barely sneaking past the initial plus-shaped structure. Activate the Space Eagle immediately to stop the can from bouncing away. The large structure should explode and throw debris to the pigs. If all pigs have not been popped, use a Black bird to destroy the remnants of that plus-shaped structure, then use another to snipe any remaining pigs.
Walkthrough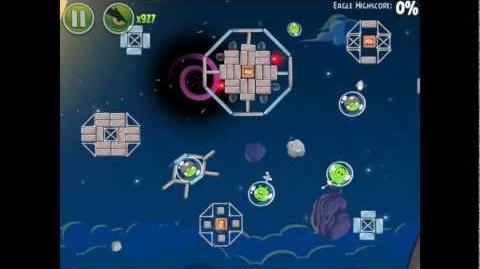 Ad blocker interference detected!
Wikia is a free-to-use site that makes money from advertising. We have a modified experience for viewers using ad blockers

Wikia is not accessible if you've made further modifications. Remove the custom ad blocker rule(s) and the page will load as expected.