Pig Bang M1-24 (Angry Birds Space)
Episode
Level Number
24
Birds Sequence
No. of Pigs
: x1 : x1
: x2 : x1
3-star Score
: 68,000 points
Previous
Next
Pig Bang M1-23
Pig Bang M1-25
Pig Bang M1-24 is the twenty-fourth level in Pig Bang Mirror Worlds Version and Angry Birds Space. You must get 3 stars in the normal version to unlock this version.
Difficulty
3 stars is not tricky if you have known how to 3 stars in the normal version. Just like the normal version, the key to 3 stars is the Firebomb Bird.
Strategy
Fire the Firebomb Bird clockwise to the bottom-left of the bottom-left structure. The explosion should throw debris to the right and pop the other pigs. If all of the pigs have not been popped yet, use the Lazer Birds to destroy the remaining pigs.
Walkthrough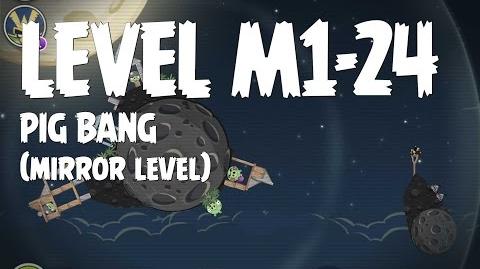 Angry Birds Space
Levels
Eggsteroids
Episode Key : Blue = Pig Bang; Cyan = Cold Cuts and Fry Me to the Moon; Pink = Utopia; Salmon = Red Planet; Lightgreen = Pig Dipper; Purple = Cosmic Crystals; RoyalBlue = Beak Impact