Pig Bang 1-28 (Angry Birds Space)
Talk

0
Pig Bang 1-28 (Angry Birds Space)
Episode
Level Number
28
Birds Sequence
No.of Pigs
x2 x1
3-star Score
: 40,000 points
Previous
Next
Pig Bang 1-27
Pig Bang 1-29
Pig Bang 1-28 is the 28th and 3rd-to-last level of Pig Bang. Pig Bang level 1-28 is pretty difficult.
Difficulty
Two rings are considerably hard to break through.
Strategy
One strategy is fire the Blue Bird into the top of the outer circle, splitting early to spread out the damage. Breaking the circles into smaller pieces helps it to collapse inward onto the pigs. If necessary, use the Lazer Bird to target your next attack through wooden blocks.
Walkthrough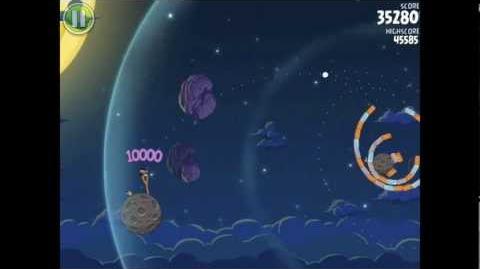 Angry Birds Space
Levels
Eggsteroids
Episode Key : Blue = Pig Bang; Cyan = Cold Cuts and Fry Me to the Moon; Pink = Utopia; Salmon = Red Planet; Lightgreen = Pig Dipper; Purple = Cosmic Crystals; RoyalBlue = Beak Impact