Pig Bang 1-28 (Angry Birds Space)/Mirror Worlds Version
Comments

0
Pig Bang M1-28 (Angry Birds Space)
Episode
Level Number
28
Birds Sequence
No.of Pigs
x2 x1
x1
3-star Score
: 40,000 points
Previous
Next
Pig Bang M1-27
Pig Bang M1-29
Pig Bang M1-28 is the twenty-eighth level in Pig Bang Mirror Worlds Version and Angry Birds Space. You must get 3 stars in the normal version to unlock this version.
Difficulty
The level is not just very hard to break through the rings, but also hard to pop Hekto Porko!
Strategy
The basic strategy is to wait until Hekto Porko is about to fly into the southeast of the planetoid. Then, shoot the Lightning Birds and split out early enough to pop Hekto Porko and also damage the rings at 5 and 6 o'clock. If necessary, use the Lazer Bird to target your next attack through wooden blocks.
Walkthrough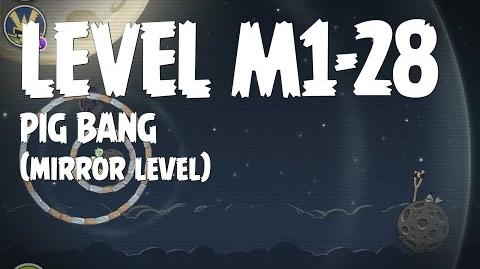 Angry Birds Space
Levels
Eggsteroids
Episode Key : Blue = Pig Bang; Cyan = Cold Cuts and Fry Me to the Moon; Pink = Utopia; Salmon = Red Planet; Lightgreen = Pig Dipper; Purple = Cosmic Crystals; RoyalBlue = Beak Impact