Pig Bang 1-7 (Angry Birds Space)
Episode
Level Number
7
Max quantity of Sardines
No.of Pigs
: x2
Difficulty
Easy
Progression
Previous
Next
Pig Bang 1-6
Pig Bang 1-8
Here is the strategy for 100% total destruction with Space Eagle for Pig Bang 1-7 (Angry Birds Space). Note: You must have least one sardine can to play this mode.
Difficulty
Place the Sardine Can between of the two towers is a hard work.
Strategy
Throw Sardine clockwise, doing a double-loop around the planet. Send the Space Eagle when the can approaches the base of the eastern structure. You are more likely to earn the feather by targeting stone instead of wood.
Walkthrough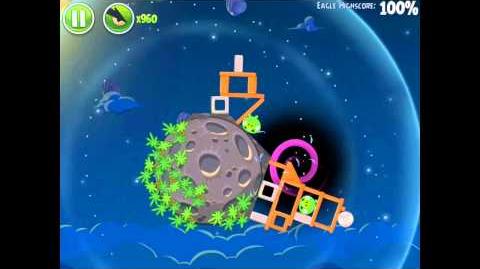 Ad blocker interference detected!
Wikia is a free-to-use site that makes money from advertising. We have a modified experience for viewers using ad blockers

Wikia is not accessible if you've made further modifications. Remove the custom ad blocker rule(s) and the page will load as expected.