Pig Bang M1-9 (Angry Birds Space)
Episode
Level Number
9
Birds Sequence
No. of Pigs
: x2 : x1
: x1
3-star Score
: 42,000 points
Previous
Next
Pig Bang M1-8
Pig Bang M1-10
Pig Bang M1-9 is the ninth level in Pig Bang Mirror Worlds Version and Angry Birds Space. You must get 3 stars in the normal version to unlock this version.
Difficulty
This level has a similiar strategy to the normal version so it's not so hard to clear.
Strategy
Simply aim toward the square block field and split out as late as possible (just remember to split before they hit Hekto Porko). Then aim the second bird for the zone which has the most blocks in the block field. If you're lucky, this should defeat the pig on the planet.
Walkthrough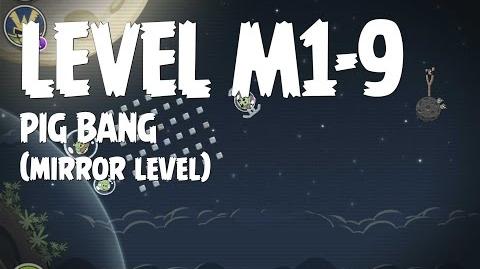 Angry Birds Space
Levels
Eggsteroids
Episode Key : Blue = Pig Bang; Cyan = Cold Cuts and Fry Me to the Moon; Pink = Utopia; Salmon = Red Planet; Lightgreen = Pig Dipper; Purple = Cosmic Crystals; RoyalBlue = Beak Impact
Ad blocker interference detected!
Wikia is a free-to-use site that makes money from advertising. We have a modified experience for viewers using ad blockers

Wikia is not accessible if you've made further modifications. Remove the custom ad blocker rule(s) and the page will load as expected.