Pig Days
Episode number
Bonus Episode
Levels
93
New features
Various objects
Released
July 3, 2014
Game(s)
Previous
Next
South Hamerica
Ham Dunk
The Pig Days was a special advent calendar for Angry Birds Seasons released on July 3, 2014 (along with the update of South Hamerica).[1]
Appearance
It appeared on the South Hamerica Update. It only appears when you select the Play Button. It can also appear if you're on Season 2010-2011, Season 2012, Season 2013, Season 2014, and Season 2015. It has ended in Summer Camp update and replaced with The Pig Challenge.
Gameplay
[2][3] From July 19, levels are unlocked from every specific day, and has each level with a different festive day. The first chapter has 15 levels and the second has 9 levels.
Chapter 1: v4.1.0
Sun. 20 July: Commemorates the 45th anniversary of Apollo 11's landing on the Moon
Thu. 24 July: Start of the San Diego International Comic-Con Convention
Mon. 28 July: The 4th anniversary of AngryBirdsNest (a popular Angry Birds fan site)
Sat. 09 August: Commemorates the 841st anniversary of breaking ground on the Leaning Tower of Pisa
Wed. 13 August: Celebrates International Left-handers Day
Tue. 19 August: Celebrates Aviation Day
Sat. 30 August: Celebrates Bacon Day
Sat. 06 September: Celebrates NBA Basketball Finals
Tue. 09 September: Celebrates Moon Festival
Fri. 12 September: Celebrates Video Game Day
Fri. 19 September: Celebrates Talk Like a Pirate Day
Mon. 22 September: Celebrates Hobbit Day
Mon. 29 September: Celebrates International Coffee Day
Fri. 10 October: Celebrates World Egg Day
Mon. 13 October: Celebrates Columbus Day
Chapter 2: v4.2.0
Wed. 15 October: Celebrates Learn to Code Day
Fri. 31 October: Celebrates All Hallows' Eve/Halloween
Sat. 1 November: Celebrates All Hallows' Day
Sun. 2 November: Celebrates Day of the Dead/Dia de Muertos
Wed. 5 November: Celebrates Guy Fawkes Night
Tue. 11 November: Celebrates Ahtisaari Days
Tue. 18 November: Celebrates William Tell Day
Fri. 21 November: Celebrates World Hot Air Balloon Day
Thu. 27 November: Celebrates Thanksgiving
Thu. 11 December: Commemorates the 5th anniversary of Angry Birds (Bird Day)
Wed. 31 December: Celebrates NYE 2015
Fri. 2 January: Celebrates Sci-Fi Day
Tue. 13 January: Celebrates Rubber Duck Day
Mon. 19 January: Celebrates Popcorn Day
Wed. 28 January: Celebrates Data Privacy Day
Tue. 3 February: Celebrates Windmill Day
Chapter 3: v5.0.0
Sat. 14 February: Celebrates Valentine's Day
Mon. 16 February: Celebrates The Start of the 2015 "Rio Open"
Thu. 19 February: Celebrates Chinese New Year
Fri. 27 February: Celebrates Polar Bear Day
Tue. 3 March: Commemorates NASA 100YO anniversary (100th anniversary of NASA)
Mon. 9 March: Celebrates the California Gold Rush
Tue. 17 March: Celebrates Submarine Day
Fri. 27 March: Celebrates Hanami (Cherry Blossom festival)
Fri. 3 April: Celebrates Easter
Sun. 12 April: Celebrates the "First flight into Space"
Wed. 22 April: Celebrates Earth Day
Chapter 3 (cont.): v5.0.1
Fri. 1 May: Celebrates May Day
Tue. 5 May: Celebrates Cinco De Mayo 
Wed. 13 May: Celebrates Leprechaun Day 
Fri. 22 May: Celebrates World Goth Day
Fri. 29 May: Commemorates the End of the Middle Ages
Thu. 8 June: Celebrates World Ocean Day 
Fri. 12 June: Celebrates World Magic Day
Fri. 19 June: Celebrates Midsummer's Eve
Thu. 2 July: Celebrates UFO Day
Tue. 14 July: Celebrates Pandemonium Day
Chapter 4: v5.0.1
Mon. 20 July: Anniversary of Pig Days
Thu. 30 July: Release of Angry Birds 2
Sun. 02 August: Celebrates World Friendship Day
Sat. 08 August: Celebrates World Cat Day
Tue. 11 August: Celebrates Play in the Sand Day
Sun. 23 August: Celebrates Ride the Wind Day
Sun. 30 August: Celebrates International Bat Night
Tue. 08 September: Celebrates International Literacy Day
Thu. 16. September: Celebrates Preservation of the Ozone Layer Day
Tue. 22. September: Celebrates Car Free Day
Chapter 5: v5.3.1
Thu. 22. October: Commemorates the 5th Anniversary of Angry Birds Seasons
Thu. 29. October: Celebrates World Internet Day
Mon. 02. November: Celebrates All Souls' Day
Wen. 11. November: Celebrates Origami Day
Tue. 17. November: Celebrates Meteor Shower Day
Tue. 31. December: Celebrates New Year 2016
Sun. 10. January: Celebrates Crossing the Rubicon Day
Wen. 20. January: Celebrates Penguin Awareness Day
Mon. 08. February: Celebrates Chinese New Year 2016
Chapter 6: v6.0.0
Sun. 14. February: Celebrates Valentine's Day 2016
Sun. 28. February: Celebrates World Polar Bear Day 2016
Wen. 02. March: Celebrates World Wildlife Day
Mon. 07. March: Celebrates Women's Day
Tue. 08. March: Celebrates Solar Eclipse
Fri. 18. March: Celebrates Earth Hour
Sat. 26. March: Celebrates Easter 2016
Chapter 7: v6.0.1
Fri. 01 . April: Celebrates April Fools Day
Sun. 10. April: Celebrates Golf Day
Tue. 12. April: Celebrates First Spaceflight 2016
Thu. 21. April: Celebrates Loch Ness Monster Day
Sun. 24. April: Celebrates World Penguin Day
Sun. 08. May: Celebrates Mother's Day
Thu. 12. May: Celebrates Anger Management (As part of the promotion for The Angry Birds Movie)
Fri. 13. May: Celebrates Pigs Arrive (As part of the promotion for The Angry Birds Movie; The day of most international releases)
Fri. 20. May: Celebrates The Eagle's Den (As part of the promotion for The Angry Birds Movie; The day of the U.S., Canada, and China releases)
Sun. 29. May: Everest Day [The first ascent of Mount Everest]
Wen. 01. June: Celebrates World Milk Day
Trivia
On the Pig Days map, a mooncake which has a candle on it is seen, so that event would mean it is in commemoration of "AngryBirdsNest" 4th birthday.
It is the second game that a Fat Pig appears outside of "Angry Birds Space" and the third appearance of "El Porkador!".
It is the second game to have alliteration in the background levels.
Ever since the Summer Camp update, Pig Days is located in the 2016 section, shows how many stars, coins, and feathers the player has achieved, and hasn't had a new level added since World Milk Day, indicating that it has ended.
This is the longest episode ever released in the entire Angry Birds series with 93 levels. The second is Poached Eggs with 63 levels, which is 30 levels behind.
New sprites and features
The Pig Days introduced some new sprites and/or features in Angry Birds Seasons:
1-1: Fire sprite. It used later in 1-7.
1-2: Wingman and El Porkador came from Angry Birds Friends, but Wingman lost his 'WHAM!' figures. - The 'ComPigCon' and 'ComBirdCon' posters. - Terence also equipped with a hard ball, chained to him.
1-6: Clouds now are 'out of the background' and can block your way.
1-8: Basketball and net. It used later in Ham Dunk episode, alongside net stander and and 'Dunk' bonus.
1-12: Barad-dûr Tower sun sign and flag.
2-2: Zombie pig costume.
2-5: Guy Fawkes clothes for pigs.
2-6: Minion Pigs are Playable, Cannons and Swords
2-8: The explosive King Pig golden sign.
2-9: Feathers and turkey skin.
2-12: Alien pig costume and floating object. It used later in Invasion of the Egg Snatchers episode.
2-13: Rubber Duck. It used later in Angry Birds 2 as Power-Up.
2-14: Popcorn and Shovel.
2-15: Fuse, Pickaxe, Scarf and Stop sign.
3-1: Big Red Ballon
3-2: Tennis Racket, Tennis Ball and Rio Open banner sign
3-5: Space Helmet and Wrench
3-10: Pepper
3-11: Windmill
3-12: Hats and Cow costume.
4-1: Wigs
4-2: Newspaper
4-3: Fish
4-9: Straw House
4-10: Devil Rubber Duck
5-7: Origami
5-9: Big Glass
5-10: Straws
6-2: Warning block.
6-12: Wig
Gallery
Videos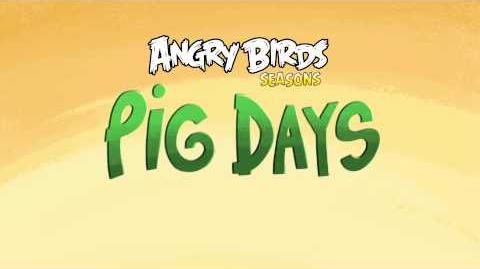 Sources
Ad blocker interference detected!
Wikia is a free-to-use site that makes money from advertising. We have a modified experience for viewers using ad blockers

Wikia is not accessible if you've made further modifications. Remove the custom ad blocker rule(s) and the page will load as expected.