Pig Dipper 6-18 (Angry Birds Space)
Episode
Level Number
148
Birds Sequence
No. of Pigs
: x7 : x1
3-star Score
: 82,000 points
Previous
Next
Pig Dipper 6-17
Pig Dipper 6-19
Pig Dipper 6-18 is the 18th level in Pig Dipper.The objective of level 6-18 is to use the birds to eliminate all the pigs. Get at least 82,000 points for 3 stars.
Difficulty
Bubbled pigs and the rightmost pig can be tricky.
Strategy
Send the Ice bird into the bottom of the boat, causing it to freeze and self-destruct. The points here are very important. Toss the Orange bird up, manually triggering its expansion to throw debris into the bubbled pigs beside it.
Walkthrough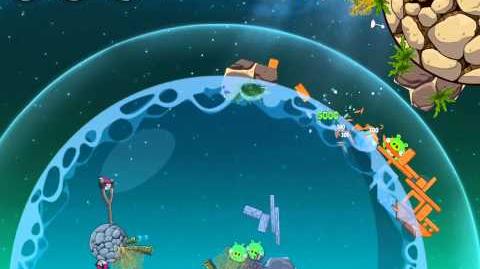 Angry Birds Space
Levels
Eggsteroids
Episode Key : Blue = Pig Bang; Cyan = Cold Cuts and Fry Me to the Moon; Pink = Utopia; Salmon = Red Planet; Lightgreen = Pig Dipper; Purple = Cosmic Crystals; RoyalBlue = Beak Impact