Pig Dipper 6-19 (Angry Birds Space)
Comments

0
Pig Dipper 6-19 (Angry Birds Space)
Episode
Level Number
149
Birds Sequence
No.of Pigs
x2 x3
x1
3-star Score
: 90,000 points
Previous
Next
Pig Dipper 6-18
Pig Dipper 6-20
Pig Dipper 6-19 is the 19th level in Pig Dipper.The objective of level 6-19 is to use the birds to eliminate all the pigs. Get at least 90,000 points for 3 stars.
Difficulty
Lazer Bird can be hard to use because you're underwater.
Strategy
Send the Black bird south, just clearing the arrow, and detonating after passing through a rope or two. Use the Lazer bird to blast the TNT near the two remaining pigs, finishing the level.
Walkthrough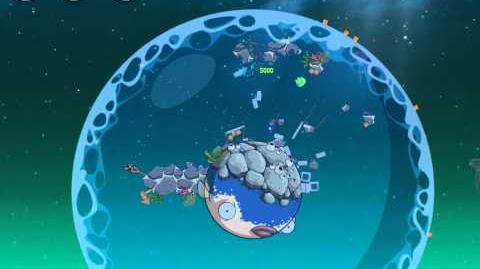 Angry Birds Space
Levels
Eggsteroids
Episode Key : Blue = Pig Bang; Cyan = Cold Cuts and Fry Me to the Moon; Pink = Utopia; Salmon = Red Planet; Lightgreen = Pig Dipper; Purple = Cosmic Crystals; RoyalBlue = Beak Impact