Pig Dipper 6-20 (Angry Birds Space)
Comments

0
Pig Dipper 6-20 (Angry Birds Space)
Episode
Level Number
150
Birds Sequence
No.of Pigs
x6 x1
x4 x1
3-star Score
: 140,000 points
Previous
Next
Pig Dipper 6-19
Pig Dipper 6-21
Pig Dipper 6-20 is the 20th level in Pig Dipper.The objective of level 6-20 is to use the birds to eliminate all the pigs. Get at least 140,000 points for 3 stars.
Difficulty
The pile of woods is hard to destroy.
Getting 3 stars is very hard.
Strategy
Send the Lazer bird steeply south, letting him skim along the water. When he nears the structures, redirect him through the pigs on the east side and the rope holding the TNT. Skip Terence across the top of the westernmost tower, toppling it and allowing Terence to continue onward into the last tower. If needed, use a Lazer bird to finish off.
Walkthrough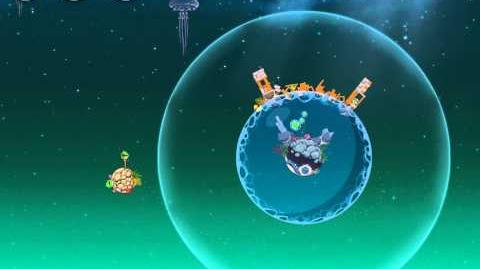 Angry Birds Space
Levels
Eggsteroids
Episode Key : Blue = Pig Bang; Cyan = Cold Cuts and Fry Me to the Moon; Pink = Utopia; Salmon = Red Planet; Lightgreen = Pig Dipper; Purple = Cosmic Crystals; RoyalBlue = Beak Impact